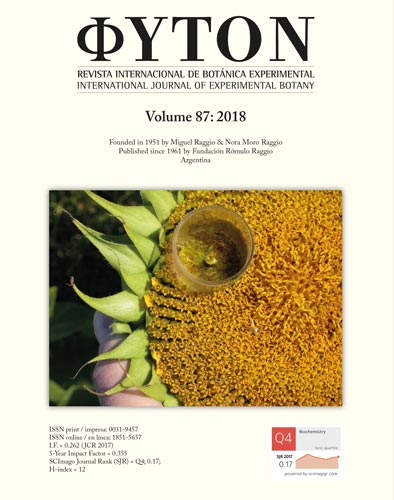 Description:
This Journal publishes original articles, short and technical notes and review articles in all fields of botany, and the biology of soils or terrestrial and aquatic plants.
Manuscripts reporting results of experimental studies on any aspect of botany and soil or plant biology, at the scale of organism, population, community, ecosystem and landscape are solicited, as well as manuscripts on ecological theory. Those manuscripts which do not include a proper statistical analysis of data will not be accepted.
Manuscripts must be original, written in English only, and they must not be submitted elsewhere for publication while under publication consideration in Phyton, International Journal of Experimental Botany.
Abstracted/Indexed in:
Thomson Scientific; Science Citation Index Expanded (SCIE); Journal Citation Report / Science Edition (JCR); Biological Abstracts; BIOSIS Previews; Field Crop Abstracts; Núcleo Básico de Revistas Científicas Argentinas; CAB Abstracts; CAB Full Text; Periódica; EMBiology; Latindex; Scopus; TEEAL, The Essential Electronic Agricultural Library ver » ; SciELO (Scientific Electronic Library Online) ver » ; Portal de Revistas en Biodiversidad ver »